A Highland
Gathering
The Antigonish Highland Games since 1863. All the colour, sounds and excitement of the oldest continuously running games in North America.Over a three year period SeaBright's cameras documented every aspect of the games. This one hour video tape gives you a fascinating, informative and entertaining look into this great highland gathering.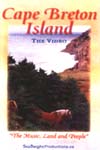 Cape Breton
Island Vol. 1
A collage of people, cultures, music and landscape of Cape Breton Island.. A variety of musicians from all three major cultures, Highland Scots, Acadian French and our first nations people the Mi'kmaq.
The Master
Of The
Cape Breton
Fiddle
We see Buddy at his best, playing for the dancers at Glencoe Hall and in a duet with niece Natalie. The camera follows the master violinist through the Scottish Highlands, the land of his ancestors, to the mist covered mountains of the Isle of Skye, where he teaches a week-long workshop in the Cape Breton style of playing.
The Pipes
The Pipes
Are Calling
Through the piping traditions of Scotland and Ireland, to a medieval castle in France for an amazing festival of European Bagpipes.The adventure continues in the new world, with the last of the Cape Breton community dance pipers, Celtic rock music and an alternative Pipers' Convention in the USA.
Cape Breton
Island Vol. 2
Spirited Cape Breton music blended with magnificent scenery throughout the seasons, engaging personalities and a touch of humor; this was filmmaker Peter Murphy's winning recipe for Vol. I. Once again he takes us along with his digital camera for a whole new series of musical adventures through the natural beauty of Cape Breton Island, as we explore North America's Celtic heartland.
Music In
The Blood
A documentary that follows the musical adventures of a group of fiddlers and stepdancers as they travel through the Outer Hebrides, teaching and playing their Cape Breton traditions. Featured are fiddlers Buddy MacMaster and Kinnon Beaton and stepdancers Willie Fraser and Mary Janet MacDonald.
Finesterre
FINISTERRE (means the end of the world) is a Celtic music adventure to the two most remote and remarkable corners of the Celtic World, Brittany in France and Galicia and Asturias in Spain. Exploring the music, culture, land and people living at the "Ends of the world".